I. Otis Maintenance Service

We have been insisting on providing customers with after-sales maintenance services of the original manufacturers to ensure the long-term service quality of elevators!
Elevator maintenance requires good technology, which requires continuous training, proper replacement of parts and correct tools. To strictly implement this, it must be a competent and experienced organization aiming at maintaining good and reliable performance, safety and standby status of equipment. These also require the most appropriate tariff.
 Otis Integrated Maintenance Plan (Otis Maintenance) can fully meet these requirements. Here, we will present to you the benefits of employing Otis for long-term preventive maintenance.


The objectives of OTIS maintenance are as follows:
(1) To adopt a separate responsibility system for equipment. We send trained technicians to perform planned preventive maintenance, including replacement of worn parts, commissioning and safety inspection. All these works are under the planned supervision and control of Otis.
(2) To prolong the life of equipment and protect your investment for a long time through regular and appropriate planned maintenance. Reduce failure and minimize unplanned equipment maintenance costs.
(3) Provide comprehensive and systematic spare parts services, especially for customers who adopt OTIS maintenance and provide priority for factory maintenance in the shortest possible time.
(4) Implement planned preventive maintenance procedures and continuous training through certification to improve the efficiency of technicians and keep OTIS maintenance at an economic level.
(5) Guarantee emergency service in case of failure.
(6) Our service team is the Otis World Organization, which ensures that any improvements due to changing requirements can be made immediately.
Otis Maintenance has become our world trademark because of our undisputed quality of service. Otis has successfully carried out preventive maintenance for more than 100 years. Over 600,000 escalators and elevators have been repaired and maintained worldwide. We are a leader in market segmentation and technology.
II. Functional Structure of Maintenance Department
According to the Otis policy, the Otis elevator must be installed and maintained directly by the manufacturer. The Otis Elevator in Shenzhen is in charge of the Shenzhen Branch of Guangzhou Otis Elevator Co., Ltd.
Guangzhou Otis Elevator Co., Ltd. is a large professional company which integrates design, sales, production, installation and maintenance. Like other OTIS companies around the world, they not only have products to design, but also have a world service team.
Guangzhou Otis Elevator Co., Ltd. is responsible for the maintenance of elevators and escalators. It has five systems. The system is independent and closely coordinated with each other, which is the guarantee for our company to provide systematic and reliable services for the project.

Shenzhen Branch is a Class A Branch of Otis in China, with more than 130 maintenance personnel!

In order to ensure the rapid after-sales maintenance in Shenzhen, our company has set up spare parts warehouse on the negative floor of 3039 Shennan Middle Road International Culture Building in Shenzhen and Taoyuan Residence Maintenance Service Center in Baoan District of Shenzhen.

Huge staff support, to ensure that you provide professional services!

The maintenance department structure chart is as follows: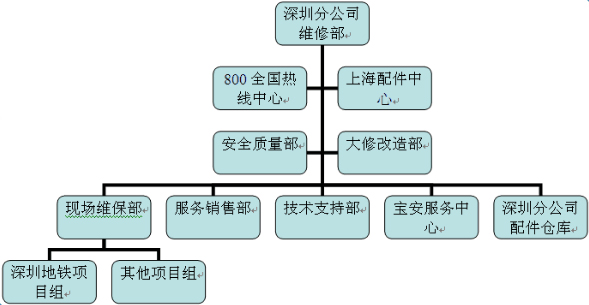 2.1 Service Sales Department
    Responsible for sales, signing and tracking of service contracts, and make regular visits;
2.2 Field Maintenance Department
    Site maintenance is responsible for site maintenance and technical support.
In order to better and faster provide our services to customers, Guangzhou Otis Elevator Co., Ltd. Shenzhen Branch Maintenance Department is located in Shenzhen Five Administrative Regions.Luohu, Futian, Nanshan, Baoan and Longgang sub-districts are contracted to set up maintenance teams and the Maintenance Department has set up a large project team specially for large projects such as high-speed elevators. Each team is composed of the following personnel:
Maintenance Project Manager
Maintaining escalators and shielded doors in large projects.
Technical field personnel for major maintenance projects
Mainly responsible for the emergency repair and maintenance of escalators and screen doors in large projects.
supervise
Mainly responsible for site maintenance management, communication and coordination with customers, maintenance personnel deployment and other work.
Field technicians
Maintenance foreman:Mainly responsible for elevator system maintenance management, recall troubleshooting and elevator operation on duty arrangements.
Maintenance foreman:Mainly responsible for elevator system maintenance management, maintenance personnel deployment and so on.
Technician:Mainly responsible for elevator equipment maintenance and troubleshooting。
Maintenance Technician:Maintenance of elevator equipment.
All the technicians in Guangzhou Otis are familiar with Otis ladder type and can serve customers at any time.
Guangzhou Otis Elevator Co., Ltd. Shenzhen Branch's maintenance personnel have a high level of education and rich maintenance experience. Most of them are college graduates and have served in Guangzhou Otis Elevator Co., Ltd. Shenzhen Branch for more than 4 years. Some of them study and work in Otis, Hong Kong, and have a profound understanding of elevator and passenger safety. Because Otis always put safety first, Otis's slogan is safety first.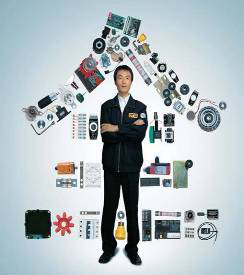 2.3 Technical Support Network
Maintenance support network is through the global internal network communication of Otis to achieve Otis resource sharing. New information and rapid response will be our company's strongest technical support backing.
2.4 Parts Warehouse Network
Otis stores spare parts in Shenzhen, which can provide customers with value of 10 million yuan, and has more than 1300 kinds of spare parts. At the same time, we have set up a spare parts logistics center in Shanghai to enable Otis branches to obtain the required spare parts in the fastest time.
The larger the scale, the higher the efficiency! Perfect accessories center can provide you with professional maintenance services as soon as possible!
2.5 Maintenance Service Center
Otis has a fully computerized Otis hotline centre (hotline: 800 810 5588). The hotline center is equipped with advanced computer network, which can provide instant information about customers, as well as analyze the use of customers'elevators, fault types, fault records and maintenance records. It plays a very important role for the maintenance personnel to complete the maintenance task faster and better.
Otis customer elevator failure, customers can contact Otis call hotline center at any time, our center is implemented seven days a week, 24 hours a day to respond to customer response system. Upon receiving the customer's response, the controller will immediately check the customer's complete files from the computer, and then notify the maintenance personnel to go to the site for maintenance.
The OTIS hotline centre also operates 800 centralized payment services along with 24-hour OTIS call-up service. As long as we dial our 800 hotline in the area where the business has been opened, we can get in touch with my hotline center without paying any telephone charges.
Otis Call Hotline Center upholds the tenet of serving customers wholeheartedly and responsibly, and wholeheartedly provides customers with high quality and fast maintenance services.
Protect your investment------Otis Hotline Service Center.
Call-up Hotline Call-up Telephone:8008185588